Catch the Fun at These Famous Amusement Parks
Next Story
Countries that Won the Fencing Championship from 1990 to 2015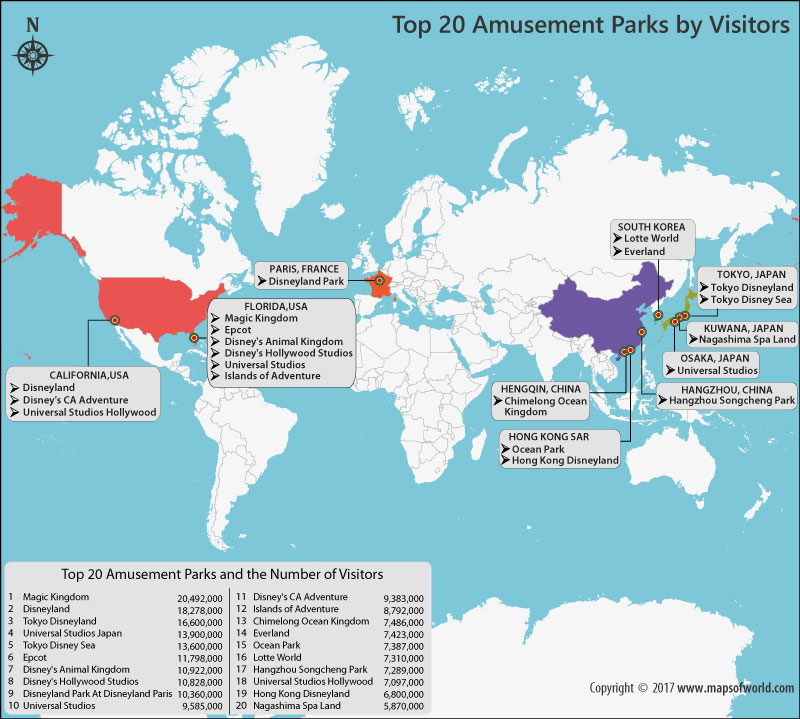 If you have a theme, we have a map.
Contact us for your custom mapping requirements
What can be more fun than lazing out on a couch in front of your TV and sipping on to that hot and delicious cappuccino on a cold winter's day. But believe us, life can be a lot more fun if you can get your act together and drive down to one of the amusement parks located in or around your city. From thrilling roller coasters to Hollywood and Harry Potter themes, these amusement parks provide enough fodder to give you an adrenaline rush. So, if you are feeling a bit bored and are looking for some excitement, then these top twenty amusement parks are just the right place to drive away the blues. These parks have been selected on the basis of the number of people who visited them in 2015.
The sheer number of attractions at the Magic Kingdom would surely leave you mesmerized. Located at Walt Disney World in the US state of Florida, the Magic Kingdom boasts of numerous facilities that would leave the visitor bewildered. Here you would not only come across popular Disney characters but can also take a trip to space mountain. One can judge the popularity of the amusement park by just glancing at the number of people who visited the park in 2015. According to a Themed Entertainment Association (TEA) data, the amusement park reported an attendance of a staggering 20,492,000 people in 2015.
Coming at the number two spot is Disneyland. Located in Anaheim in the US state of California, Disneyland witnessed an attendance of 18,278,000 in 2015. It is an ideal place to have fun with friends and family or just hang out with Disney characters.
Located in Tokyo, Japan, Tokyo Disneyland witnessed an attendance of 16,600,000 people in 2015, making it the third most visited park of the year. It is a well-maintained park where attention is given to details. Here one would get awesome entertainment as well as dining experience.
But that's not all. Japan has three other very attractive amusement parks. These are Universal Studios located in Osaka, Tokyo Disney Sea located in Tokyo, and Nagashima Spa Land in Kuwana.Occupying the fourth, fifth and 20th spot respectively, these parks recorded an attendance of 13,900,000, 13,600,000, and 5,870,000 people respectively.
Most of the amusement parks are located in the US which accounts for nine of the two twenty in terms of attendance. Of these nine, three are located in California while six are situated in Florida.
Only one European amusement park managed to make it to the top 20 list. The Disneyland Park at Disneyland Paris recorded an attendance of 10,360,000 in 2015. It is a perfect place for an outing with your kids as it features a host of amazing rides.
China is a popular tourist spot with many western tourists flying down to the country just to have a wonderful experience at its exciting amusement parks. Visitors here would experience both the Western as well as the local culture. Four amusement parks, including two in Hong Kong, made it to the top twenty list. The southeast Asian nation of South Korea is also home to some fabulous amusement parks. The two that have made it to the top twenty list are Everland in, Gyeonggi-Do, which witnessed an attendance of 7,423,000 and Lotte World in Seoul which witnessed an attendance of 7,310,000 in 2015.
Data sourced from Themed Entertainment Association (TEA)
Recent Posts