Want to know which is the biggest international box office market? Check this out!
Next Story
Get a glimpse into some of the world's best Christmas markets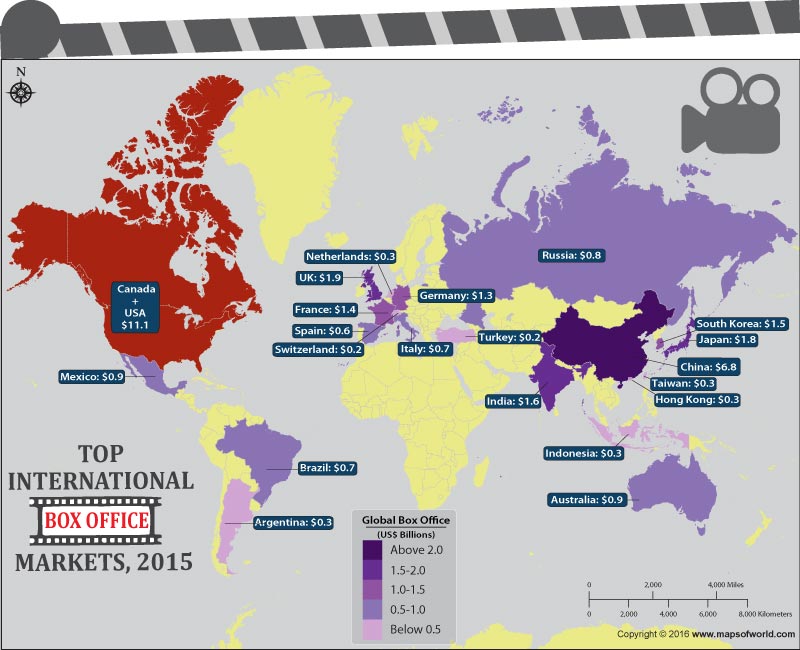 If you have a theme, we have a map.
Contact us for your custom mapping requirements
When was the last time you went to see a Hollywood movie on the silver screen? Perhaps the question would seem odd for people in North America or Western Europe. But, in countries such as India or China, which have their own booming film industries, Hollywood movies may not seem to be a popular medium of entertainment. Or is it?
Today, Hollywood is not entertaining only the US audiences with movies based solely on American themes, but has spread its tentacles far and wide, becoming a popular medium of entertainment for people in different parts of the world, even those whose first language is not English. While movies like Slumdog Millionaire and Life of Pi, which had Indian themes, did roaring business in America, Furious 7 became a massive box office hit in China.
As per a Theatrical Statistics Summary report, in the year 2015, the global box office for all films released in each country around the world stood at a whopping $38.3 billion. This saw an increase of five percent over the total in 2014. The US and Canada box office stood at $11.1 billion in 2015. This was an increase of 8 percent from the 10.4 billion that was reported in 2014.
Among the top 20 International Box Office Markets, China stood at the first position. Hollywood—which has a number of Chinese and Chinese-origin actors and directors such as Jet Li, Ang Lee, and John Woo—grossed $6.8 billion in 2015. Coming at a distant second was the United Kingdom. Surprisingly, the Western European nation raked in just $1.9 billion while in Japan it was $1.8 billion.
The Bollywood-crazed population of Indians have found an appetite for Hollywood films as well. Currently, many Indian actors are working in big-budget Hollywood movies. Occupying the fourth place, in India the box office collection was $1.6 billion in 2015. South Koreans, too, turned out to be avid Hollywood movie watchers and the box office in the Asian nation in 2015 was $1.5 billion. France and Germany continued to remain Hollywood's biggest international markets with box office in both European nations at $1.4 billion and $1.3 billion respectively.
Hollywood movies in Australia did unsurprisingly well by making $0.9 billion at the box office, especially the action-packed Mad Max: Fury Road and The Dressmaker — the two films that outperformed the others. The South American nation of Mexico and Russia, at the ninth and tenth spot, both had box office earnings of $0.9 billion and $0.8 billion respectively. Other top grossing movie markets included Italy, Brazil, Spain, Argentina, the Netherlands, Indonesia, Taiwan, Hong Kong, Turkey, and Switzerland.
(Data sourced from Theatrical Statistics Summary)
Recent Posts