Films that Won the Academy Awards From 2001 to 2017
Next Story
An Insight Into the Number of Deaths From Skin Diseases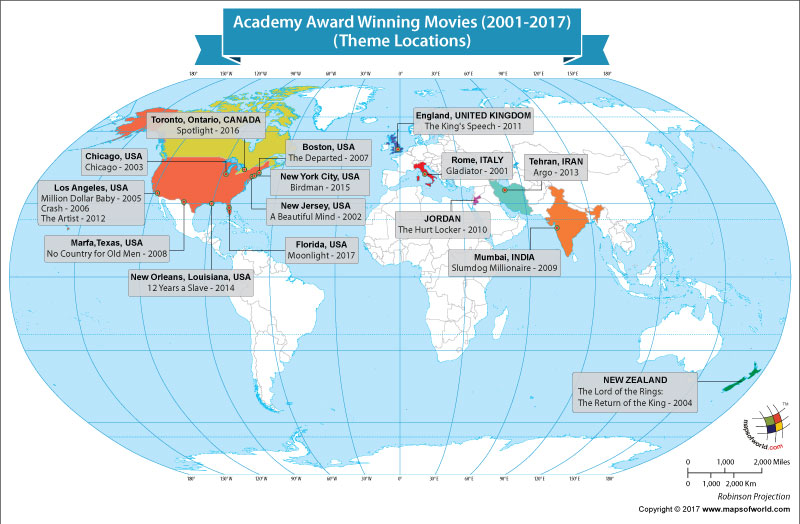 If you have a theme, we have a map.
Contact us for your custom mapping requirements
Every year, dozens of Hollywood movies hit the theaters around the world. Some of these sink without a trace while others go on to become box office hits and earn a couple of awards. One of the most prestigious awards that directors, actors and other people of the film industry look forward to are the Academy Awards, which are officially known as the Oscar Awards.
The awards are presented annually by the Academy of Motion Picture and Arts and recognize the achievements in the film industry. The first Academy Awards were held in 1929, while the first radio broadcast took place in 1930. Televised for the first time in 1953, the awards are telecast in more than 200 countries today. A number of movies have won the Oscar Awards since its inception; however, we will be providing a glimpse of the 21st century movies that have bagged the prestigious awards.
Released in the year 2000, Ridley Scott directed Gladiator won multiple awards at the 73rd Academy Awards held in 2001. The movie which had big names like Russell Crowe, Oliver Reed and others is a historical drama set in ancient Rome. The movie grossed $457 million worldwide.
The movie 'A Beautiful Mind', based on the life of Nobel Laureate in Economics, John Nash won four Academy Awards in 2002. Starring Russell Crowe, the movie grossed over $313 million worldwide. It was set in the US state of New Jersey. Chicago bagged six Academy Awards in 2003. The movie explores the themes of celebrity, corruption, as well as scandal.
The Lord of the Rings: The Return of the King was well received and became the highest grossing film of 2013. It won a whopping 11 awards at the Oscars in 2004. The high fantasy action adventure film is also the fourteenth highest grossing films of all times till date.
Danny Boyle's 2008 British drama film Slumdog Millionaire depicts the story of Jamal Malik, who lives in the slums of Mumbai, a city in India. The movie won 10 Academy Awards in the 2009 Oscars.
Other top movies at the Oscars were Argo, the Hurt Locker, 12 Years a Slave, No Country for Old Men and many others. Moonlight, which was released in 2016 won the Oscars in 2017.
The table below depicts the years when the movies won the Academy Awards.
| Film | Year |
| --- | --- |
| Gladiator | 2001 |
| A Beautiful Mind | 2002 |
| Chicago | 2003 |
| The Lord of the Rings: The Return of the King | 2004 |
| Million Dollar Baby | 2005 |
| Crash | 2006 |
| The Departed | 2007 |
| No Country for Old Men | 2008 |
| Slumdog Millionaire | 2009 |
| The Hurt Locker | 2010 |
| The King's Speech | 2011 |
| The Artist | 2012 |
| Argo | 2013 |
| 12 Years a Slave | 2014 |
| Birdman or (The Unexpected Virtue of Ignorance) | 2015 |
| Spotlight | 2016 |
| Moonlight | 2017 |
Recent Posts