The Gross Enrollment Ratio in Secondary Education Across the World
Next Story
Which Countries Have the Most Deaths from Heart Disease?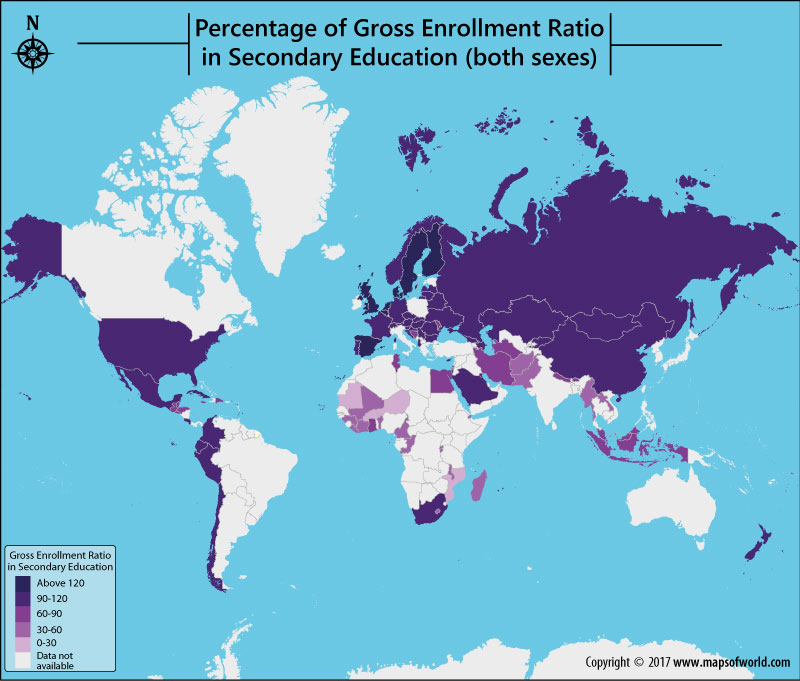 If you have a theme, we have a map.
Contact us for your custom mapping requirements
A sound educational infrastructure is essential for the all-round development of the nation. Nations around the world have given significant emphasis to the development of education so that it can produce students who can help in the economic growth of their respective nations. But there are many nations where education is still a neglected sector mainly due to years of civil war, economic and political instability, or other factors.
Here we are discussing total enrollment in secondary education, regardless of age, expressed as a percentage of the population of official secondary education age.  The European nations and the United States have paid the maximum attention to the building of a robust educational system. According to the World Bank data of 2014, regarding the percentage of Gross Enrollment Ratio (GER) in secondary education (taking into consideration both the sexes), the European Union ranked the highest recording the percentage of 113 percent. In fact, what's interesting to note here is that GER can cross the 100 percent mark because of the inclusion of under-aged and over-ages students. These are students who have started education early or late and have repeated their grades.
Meanwhile, Sub-Saharan Africa and South Asia ranked at the lowest level showing figures of 43 percent and 65 percent respectively.
Among the European nations the highest ranked was Belgium, whose Gross Enrollment Ratio in secondary education stood at a whopping 165 percent. Incidentally, Belgium also topped the World Bank list. Meanwhile, Malta ranked the lowest among European nations but still commanded a respectable 85 percent.
The African nations were placed at the bottom of the list with Niger, the lowest ranked country, showing a figure of just 19 percent. However, many nations had healthy figures such as South Africa, which recorded a figure of 94 percent and Cabo Verde, which recorded 93 percent. Meanwhile, in the United States the Gross Enrollment Ratio in secondary education stood at 98 percent.
The table below will give our readers an overview per country.
Country Name
GER % (2014)

As % of popln. of

sec. education age

Belgium
165
Finland
145
Sweden
133
Netherlands
132
Spain
130
Denmark
130
United Kingdom
128
Costa Rica
120
New Zealand
117
Portugal
116
Liechtenstein
116
Latvia
115
Palau
114
Norway
113
Slovenia
111
France
111
Barbados
109
Saudi Arabia
108
Belarus
107
Hungary
107
Lithuania
107
Kazakhstan
105
Czech Republic
105
St. Vincent and the Grenadines
105
Ecuador
104
Azerbaijan
103
Germany
102
Antigua and Barbuda
102
Israel
102
Bulgaria
101
Grenada
101
Hong Kong SAR, China
101
Russian Federation
101
Chile
100
Switzerland
100
Cuba
100
Georgia
99
Cyprus
99
Austria
99
Ukraine
99
Brunei Darussalam
99
Croatia
99
Colombia
99
North America
99
Mauritius
98
British Virgin Islands
98
United States
98
Albania
96
Macao SAR, China
96
Peru
96
Romania
95
Serbia
94
China
94
South Africa
94
Kuwait
94
Cabo Verde
93
Slovak Republic
92
Venezuela, RB
92
St. Kitts and Nevis
92
Kyrgyz Republic
91
Mongolia
91
Mexico
91
Tonga
90
Bosnia and Herzegovina
89
Iran, Islamic Rep.
88
Tunisia
88
Moldova
87
Samoa
87
St. Lucia
86
Egypt, Arab Rep.
86
Malta
85
Turkmenistan
85
Bhutan
84
Nauru
83
Indonesia
82
West Bank and Gaza
82
El Salvador
81
Tuvalu
81
Belize
80
Malaysia
79
Dominican Republic
78
Sao Tome and Principe
77
Seychelles
75
Timor-Leste
73
Bermuda
73
Jamaica
69
Honduras
68
Ghana
67
Nepal
67
Guatemala
64
Lao PDR
57
Cameroon
56
Afghanistan
56
Benin
54
Lesotho
52
Myanmar
51
Djibouti
46
Mali
44
Congo, Dem. Rep.
44
Pakistan
42
Cote d'Ivoire
40
Malawi
39
Rwanda
39
Guinea
39
Madagascar
38
Burundi
38
Liberia
38
Burkina Faso
30
Mauritania
30
Mozambique
25
Niger
19
(Data sourced from World Bank)
Recent Posts