When should children start school? Every nation has a different answer
Next Story
20 best cycling destinations on the planet; which one is your favorite?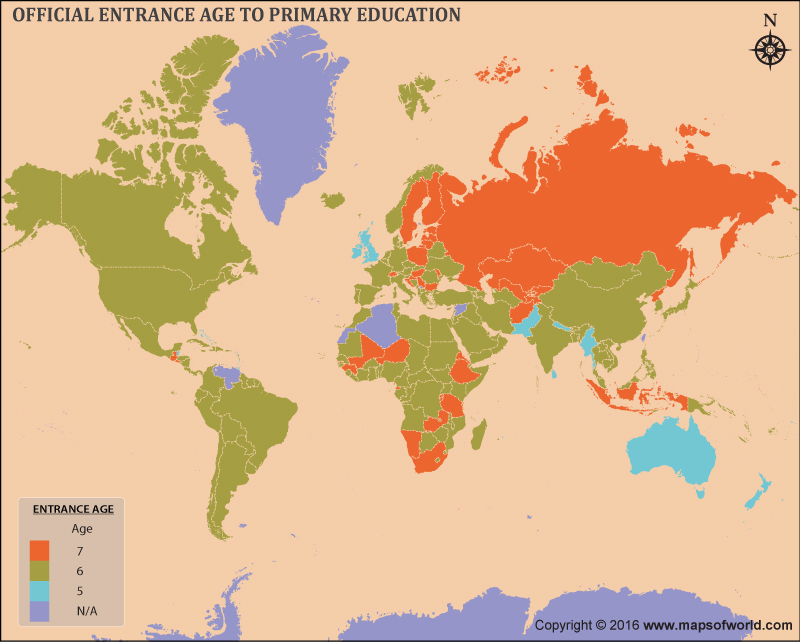 If you have a theme, we have a map.
Contact us for your custom mapping requirements
It is said that education makes a man civilized and even provides them with an identity. As such education is given a lot of importance around the world and many countries have carved a sound reputation due to their marvelous universities and high flying graduates.
However, the mantra to a successful academic career is to start out early in life. Though that is the norm around the world, but the official age for entrance to the primary education varies from country to country. According to a World Bank data, in 2015, the age at which children entered primary education ranged from five to seven years. This entry level age remained largely static as compared to 1970; however, a few countries did experience a variation of a year or so.
In the two continents of America – North America and South America – children begin their education at the age of six. The only nation that starts a bit late is Guatemala, which is located to the south of Mexico. Here, the official age for entry to the primary education is seven years. In North America, the entry level age has mostly been static at six years; however, there have been some changes in a few South American countries. For e.g, in Brazil and Colombia, in 1970 the entry level was seven years, which had come down to six by 2015, but in Belize it was five years in the '70s, which, by 2015 had increased to six.
In Africa, may nations have set the age limit for entry to primary education at six years. However, there are a couple of nations where it is seven, to name (but) a few these are South Africa, Zimbabwe, Namibia, Zambia and Mali. However, in South Africa the entry level age back in the '70s used to be six, but by the 21st century it has increased to seven.
In a majority of the Asian nations the entry level to primary education ranges between six and seven years, but in nations such as Pakistan, Myanmar, Sri Lanka and Nepal children begin school very early. Here the official age for entry to the primary education is five years. Mongolia, along with the South American nation of Puerto Rico, is one of the few nations in the world where in the seventies the age limit used to be eight years; however, by 2015 that had come down to six years.
In Australia and its neighbor New Zealand, children begin school at the age of five years. Barring the United Kingdom, where the entry level to the primary education is five years, in the rest of Europe it varies between six and seven years. Russians, too, start a bit late at seven years of age.
(Data sourced from World Bank)
Recent Posts