Duration of Compulsory Education by Country
Next Story
USA Has The Most Scuba Diving Centers In The World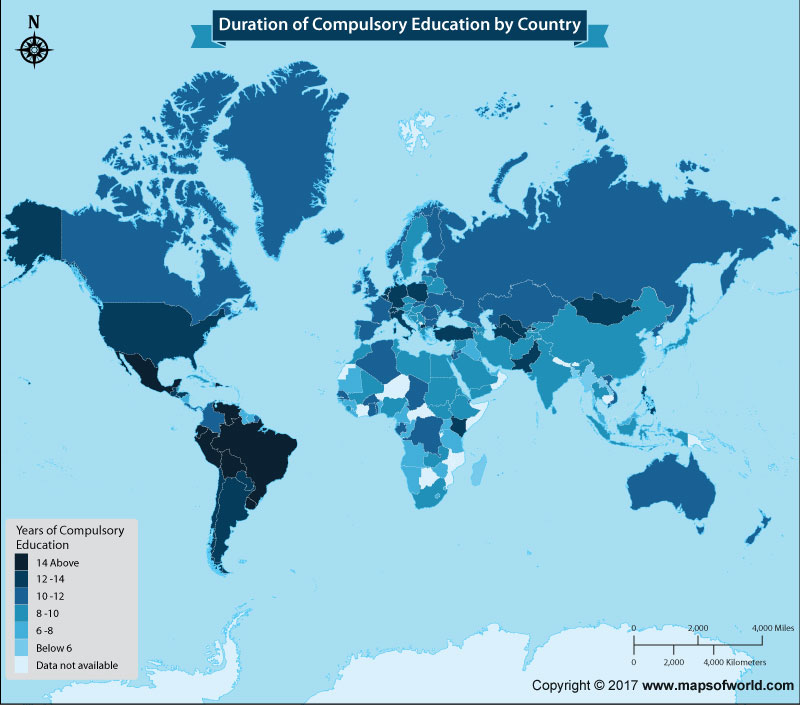 If you have a theme, we have a map.
Contact us for your custom mapping requirements
The economic and social progress of a nation depends on the quality of educational infrastructure it possesses. It is imperative that a nation's population should be literate if it has to tread on the path of economic progress. Realizing the importance that education plays in the growth of a country, many governments have taken steps to significantly strengthen their educational infrastructure and faculty.
Despite the positive steps taken by many governments, still a number of children do not go to school. In a bid to provide children with a strong educational foundation, many nations around the world have made education compulsory, though the figure varies from country to country. Compulsory education can be defined as the number of years that children are legally obliged to attend school.
According to a UNESCO data, in the year 2014, Venezuela, Dominican Republic, Ecuador and Tonga devoted the most number of years to compulsory education. In these four nations, the duration of compulsory education was 15 years. In some nations like Uruguay, Mexico, Peru, Bolivia and Brazil, the duration of compulsory education was 14 years.
The European nation of Macedonia had 13 years of compulsory education. In other European nations such as Germany, Belgium, the Netherlands, Luxembourg, Switzerland, Italy and Poland, the duration of compulsory education was 12 years, while in the United Kingdom it was 11 years.
The duration of compulsory education in the United States was 12 years in 2014, which was two years more as compared to its northern neighbor Canada, where it stood at 10 years. Among the South Asian nations, though, Pakistan stood at the top with 12 years devoted to compulsory education, followed by Sri Lanka with 9, India with 8 and Bangladesh with 5 years.
Apart from Bangladesh, other nations that occupied the bottom slot on the UNESCO list of duration of compulsory education were Madagascar, Laos, and Myanmar, where the number of years stood at 5 each.
| Country | Compulsory Education (years) |
| --- | --- |
| Venezuela (Bolivarian Republic of) | 15 |
| Dominican Republic | 15 |
| Ecuador | 15 |
| Tonga | 15 |
| Uruguay | 14 |
| Sint Maarten (Dutch part) | 14 |
| Mexico | 14 |
| Nauru | 14 |
| Peru | 14 |
| Bolivia (Plurinational State of) | 14 |
| Brazil | 14 |
| Curacao | 14 |
| Israel | 13 |
| Chile | 13 |
| Guatemala | 13 |
| Netherlands Antilles | 13 |
| Aruba | 13 |
| Turks and Caicos Islands | 13 |
| Paraguay | 13 |
| Macedonia | 13 |
| Argentina | 13 |
| Puerto Rico | 13 |
| Bermuda | 13 |
| Philippines | 13 |
| Germany | 12 |
| Palau | 12 |
| Belgium | 12 |
| Luxembourg | 12 |
| British Virgin Islands | 12 |
| Anguilla | 12 |
| Kenya | 12 |
| Saint Vincent and the Grenadines | 12 |
| Grenada | 12 |
| Uzbekistan | 12 |
| Honduras | 12 |
| Netherlands | 12 |
| Switzerland | 12 |
| Mongolia | 12 |
| El Salvador | 12 |
| United States of America | 12 |
| Cayman Islands | 12 |
| Turkmenistan | 12 |
| Italy | 12 |
| Pakistan | 12 |
| Poland | 12 |
| Turkey | 12 |
| Armenia | 11 |
| Democratic People's Republic of Korea | 11 |
| Bahamas | 11 |
| United Kingdom of Great Britain and Northern Ireland | 11 |
| Dominica | 11 |
| Latvia | 11 |
| Niue | 11 |
| Barbados | 11 |
| Senegal | 11 |
| Monaco | 11 |
| Mauritius | 11 |
| Antigua and Barbuda | 11 |
| Russian Federation | 11 |
| Ukraine | 11 |
| Costa Rica | 11 |
| Saint Kitts and Nevis | 11 |
| Ghana | 11 |
| Bulgaria | 11 |
| Tokelau | 11 |
| Panama | 11 |
| Malta | 11 |
| Cook Islands | 11 |
| Montserrat | 11 |
| France | 11 |
| San Marino | 10 |
| Palestine | 10 |
| Burkina Faso | 10 |
| Denmark | 10 |
| Romania | 10 |
| Kazakhstan | 10 |
| Togo | 10 |
| Gabon | 10 |
| New Zealand | 10 |
| Greenland | 10 |
| Viet Nam | 10 |
| Australia | 10 |
| Norway | 10 |
| Iceland | 10 |
| Andorra | 10 |
| Cabo Verde | 10 |
| Canada | 10 |
| China, Macao Special Administrative Region | 10 |
| Slovakia | 10 |
| Ireland | 10 |
| Chad | 10 |
| Finland | 10 |
| Jordan | 10 |
| Congo | 10 |
| Gibraltar | 10 |
| Algeria | 10 |
| Djibouti | 10 |
| Colombia | 10 |
| Saint Lucia | 10 |
| Spain | 10 |
| Seychelles | 10 |
| South Africa | 9 |
| Guinea-Bissau | 9 |
| Montenegro | 9 |
| Egypt | 9 |
| Kuwait | 9 |
| Marshall Islands | 9 |
| Portugal | 9 |
| Georgia | 9 |
| Syrian Arab Republic | 9 |
| Sweden | 9 |
| Morocco | 9 |
| Japan | 9 |
| Cuba | 9 |
| Albania | 9 |
| Mali | 9 |
| Faeroe Islands | 9 |
| Gambia | 9 |
| Sierra Leone | 9 |
| Sri Lanka | 9 |
| Brunei Darussalam | 9 |
| Qatar | 9 |
| Lithuania | 9 |
| Kyrgyzstan | 9 |
| Bahrain | 9 |
| Lebanon | 9 |
| Belarus | 9 |
| Indonesia | 9 |
| Estonia | 9 |
| Libya | 9 |
| Greece | 9 |
| Cyprus | 9 |
| Yemen | 9 |
| Tunisia | 9 |
| Thailand | 9 |
| Liechtenstein | 9 |
| Czech Republic | 9 |
| Timor-Leste | 9 |
| Nigeria | 9 |
| Saudi Arabia | 9 |
| Slovenia | 9 |
| Republic of Moldova | 9 |
| Afghanistan | 9 |
| China, Hong Kong Special Administrative Region | 9 |
| Austria | 9 |
| Kiribati | 9 |
| Zambia | 9 |
| Tajikistan | 9 |
| Azerbaijan | 9 |
| Bosnia and Herzegovina | 9 |
| Belize | 8 |
| Eritrea | 8 |
| Croatia | 8 |
| India | 8 |
| Sudan | 8 |
| Tuvalu | 8 |
| Serbia | 8 |
| South Sudan | 8 |
| Hungary | 8 |
| Samoa | 8 |
| Iran (Islamic Republic of) | 8 |
| Ethiopia | 8 |
| Zimbabwe | 7 |
| Nicaragua | 7 |
| United Republic of Tanzania | 7 |
| Uganda | 7 |
| Namibia | 7 |
| Swaziland | 7 |
| Lesotho | 7 |
| Liberia | 6 |
| Cameroon | 6 |
| Suriname | 6 |
| Trinidad and Tobago | 6 |
| Iraq | 6 |
| Democratic Republic of the Congo | 6 |
| Comoros | 6 |
| Jamaica | 6 |
| Angola | 6 |
| Malaysia | 6 |
| Guyana | 6 |
| Rwanda | 6 |
| United Arab Emirates | 6 |
| Sao Tome and Principe | 6 |
| Benin | 6 |
| Singapore | 6 |
| Haiti | 6 |
| Equatorial Guinea | 6 |
| Mauritania | 6 |
| Guinea | 6 |
| Myanmar | 5 |
| Lao People's Democratic Republic | 5 |
| Bangladesh | 5 |
| Madagascar | 5 |
(Data sourced from UNESCO)
Recent Posts