Countries Where the Classrooms at the Primary Level are Less Crowded
Next Story
Non-communicable Diseases Continue to Remain the Leading Killer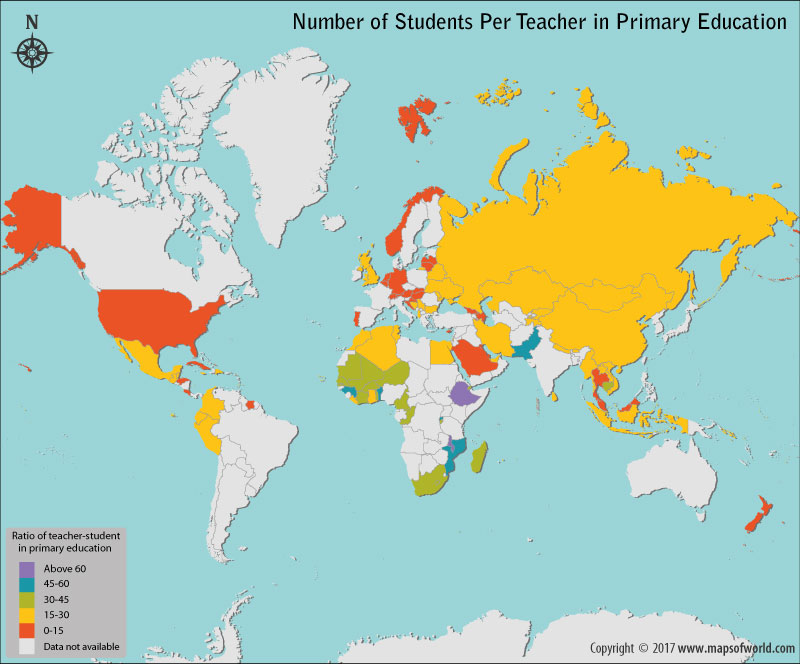 If you have a theme, we have a map.
Contact us for your custom mapping requirements
Proper schools, sound infrastructure and affordable fees are just some prerequisites for a robust educational system. However, the educational system in some nations around the world has not been able to meet the required standards due to factors such as unqualified teachers, lack of proper government funding and overcrowded classes — where the ratio of the teacher per student is unbalanced.
However, the nations that are not suffering from these drawbacks have been able to evolve a sound educational system providing high level of education to the students at the primary level.
According to a World Bank report, Bermuda, a British overseas territory located in the North Atlantic, witnesses less crowded classrooms at the primary level. The reports says that as of 2014, the student-teacher ratio stood at seven students per teacher.
This balanced ratio has enabled teachers to give equal emphasis to each student. The figure in Kuwait is also praiseworthy, which adds up to nine students per teacher. This explains why the nation has a 96.3 percent literacy level.
Norway, Cuba, Georgia, Andorra and Switzerland are just a few other nations which have a healthy student-teacher ratio of nine and ten students per teacher.
The United States and the United Kingdom, which are known for their high education standards and schools and colleges that are par excellence, too, have a relatively healthy student-teacher ratio.
While in the United States it was 15 students per teacher, the United Kingdom followed closely with 17 students per teacher.
But, lying at the extreme end were some European and Asian nations such as Ethiopia, Malawi, Rwanda, Mozambique, Pakistan and others, where the classes are much more crowded. In these countries, the ratio stood at a whopping 47-64 students per teacher.
(Data sourced from World Bank)
Recent Posts