Nations Worst Hit by Internal Displacements
Next Story
The Top 15 Nations With the Highest Percentage of Plastic Surgeons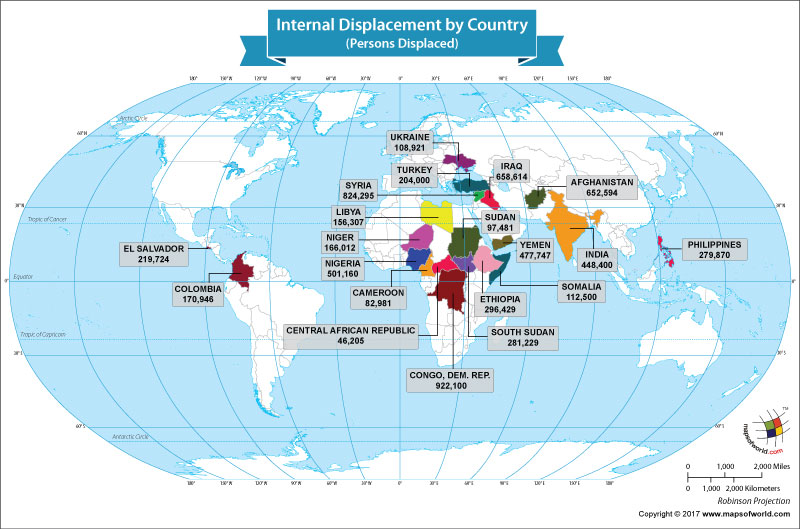 If you have a theme, we have a map.
Contact us for your custom mapping requirements
The Year 2016 witnessed an estimated 31.1 million new internal displacements due to conflicts and disasters. Unlike refugees, the internally displaced people are on the run within their own country. Being displaced in one's own country is a traumatic experience leading to panic and uncertainty.
According to a new report by the Internal Displacement Monitoring Center, of the 6.9 million new internal displacements that were reported in 2016, some 2.6 million occurred in Sub-Saharan Africa. The report also states that more people were displaced by disasters than by conflicts. Sudden onset of weather hazards such as storms, wildfires, floods and severe winter conditions resulted in around 24 million new disaster displacements in 2016.
According to the Global Report on Internal Displacement, among the 20 worst affected nations, the Democratic Republic of the Congo topped the list witnessing a whopping 922,100 people forced to flee their homes in 2016. Syria, which has been severely impacted by the Syrian Civil War that has been raging since 2011, saw 824,295 internal displacements during the year. Iraq, Afghanistan and Nigeria were the third, fourth and fifth most affected countries in 2016. These three nations witnessed 658,614, 652,594, and 501,160 people being forced to flee from their homes.
The other nations that were included in the top ten most affected countries were Yemen, India, Ethiopia, South Sudan, and the Philippines. While Yemen saw 477,747 new internal displacements during the year, the figure in India stood at 448,400. Meanwhile, Ethiopia, South Sudan, and the Philippines witnessed 296,429, 281,229, and 279,870 new internal displacements in the year 2016.
The other ten worst affected nations were Central African Republic, Cameroon, Sudan, Ukraine, Somalia, Libya, Niger, Colombia, Turkey, and El Salvador. The number of new internal displacements in these nations ranged between 46,205 and 219,724.
The table below provides information on the new internal displacement in each nation.
| Country | New Displacements |
| --- | --- |
| Congo, Dem. Rep. | 922,100 |
| Syrian Arab Republic | 824,295 |
| Iraq | 658,614 |
| Afghanistan | 652,594 |
| Nigeria | 501,160 |
| Yemen | 477,747 |
| India | 448,400 |
| Ethiopia | 296,429 |
| South Sudan | 281,229 |
| Philippines | 279,870 |
| El Salvador | 219,724 |
| Turkey | 204,000 |
| Colombia | 170,946 |
| Niger | 166,012 |
| Libya | 156,307 |
| Somalia | 112,500 |
| Ukraine | 108,921 |
| Sudan | 97,481 |
| Cameroon | 82,981 |
| Central African Republic | 46,205 |
(Data sourced from Internal Displacement Monitoring Center)
Recent Posts