The World's Top-Saving Countries
Next Story
Movie Admissions Around the World: India and the United States on Top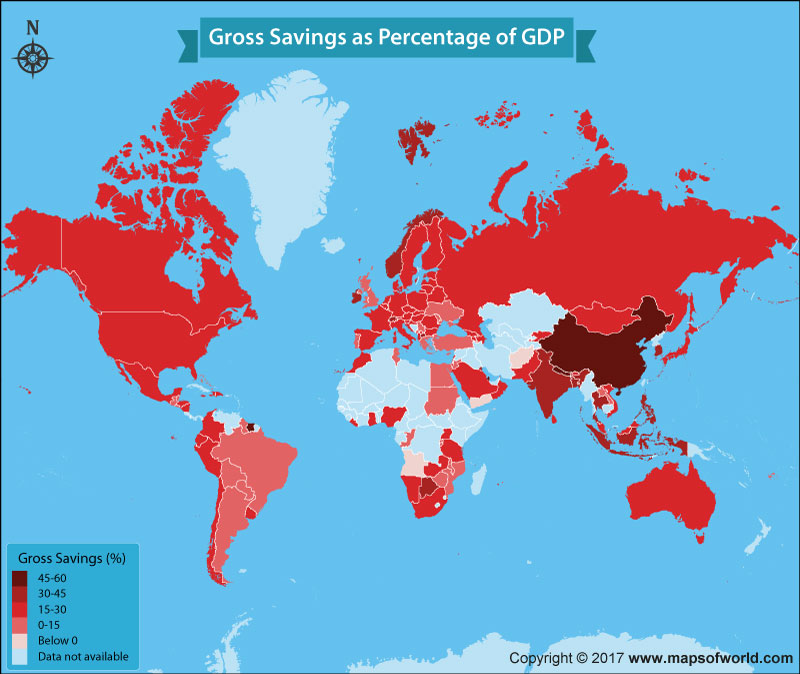 If you have a theme, we have a map.
Contact us for your custom mapping requirements
Gross savings, simply put, can be defined as the difference between the gross national income of a country and its total consumption, plus net transfers. Gross savings are an important part of a nation's economy and define its economic prowess.
According to the World Bank data of 2015, gross savings formed 25 percent of the GDP around the world. Brunei ranked at the top of the World Bank list with gross savings forming 56 percent of the GDP. Macao Special Administrative Region of the People's Republic of China came at the second spot with gross savings forming 52 percent of the GDP, while in Suriname it was 51 percent.
Nations such as China, Qatar, Nepal, Singapore and the Philippines reported gross savings forming more than 40 percent of the GDP.
As for regions, East Asia and the Pacific region had the highest percentage of gross savings with 36 percent of the GDP. South Asia with gross savings forming 31 percent of the GDP was at the second spot. Here, while Nepal had the highest percentage at 46, Bhutan ranked the lowest with gross savings forming just 22 percent of the GDP.
The percentage was quite low in Europe at 22 percent. Among European nations, Norway had the highest figure at 37 percent, while in Montenegro, which was at the bottom, gross savings formed just 7 percent of the GDP. In the United States and Canada, the figures stood at 19 and 20 percent respectively.
Countries such as Yemen, Angola and Afghanistan were at the lowest level where the gross savings were almost negligible. Here, the figures stood at -5, -6, and -12 respectively.
(Data sourced from World Bank)
Click here to View
Recent Posts