China is the World Leader in Wind Power Capacity
Next Story
USA Has The Most Scuba Diving Centers In The World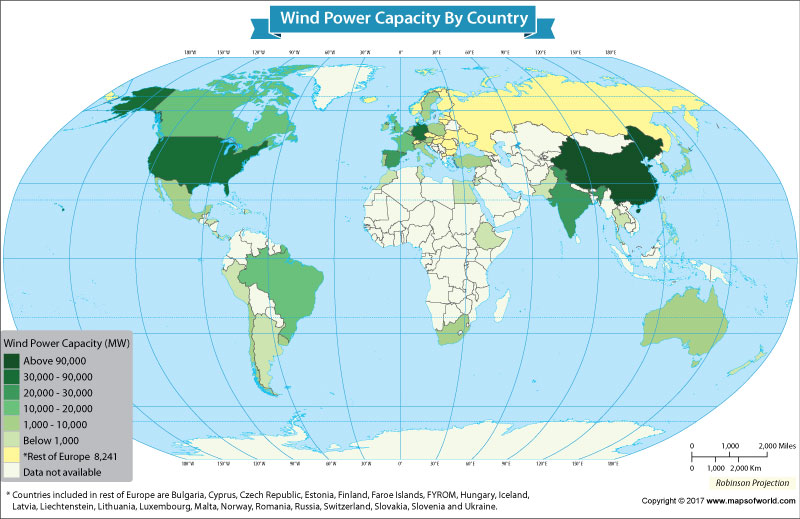 If you have a theme, we have a map.
Contact us for your custom mapping requirements
Man has used wind as a form of energy for hundreds of years. In the ancient times sailors attached sails to their ships. These sails would capture wind and propel the ships forward. Wind mills were also used to perform various activities such as pumping water and grinding grain. The trend of using wind as a means of energy has continued in modern times and today wind turbines, which are the advanced version of the wind mills, use the wind energy to produce electricity.
According to a data by the Global Wind Energy Council, in the year 2015, China ranked first in wind power capacity. According to the data, wind power capacity in China stood at a staggering 168,690 megawatts. Blessed with top-class wind resources, the United States was at the second number in wind power capacity in 2015.
However, the country stood at a distant second with 82,184 megawatts of wind power capacity. The third position was occupied by Germany with a wind power capacity of 50,018 megawatts. Germany had, in 2010, unveiled the Alpha Ventus, the country's first offshore wind park, in the North Sea.
Though a relative newcomer, India has taken its wind power sector seriously. Making it to the fourth spot, in 2015, the wind power capacity in the country stood at 28,700 megawatts; while in Spain, which was at the fifth spot, it was 23,074 megawatts.
In nations such as the United Kingdom, France, Canada and Brazil, the wind power capacity ranged between 10,000 and 20,000 megawatts. Wind power capacity is also growing in Sweden, where it stood at 9,257 megawatts in the year 2015.
Some nations where the wind power capacity was below 1,000 megawatts were Egypt, Morocco, New Zealand, Pakistan, Ethiopia, Peru, Thailand and the Philippines, to name a few.
| Country | Capacity (MW) |
| --- | --- |
| PR China* | 168,690 |
| USA | 82,184 |
| Germany | 50,018 |
| India | 28,700 |
| Spain | 23,074 |
| UK | 14,543 |
| France | 12,066 |
| Canada | 11,900 |
| Brazil** | 10,740 |
| Italy | 9,257 |
| Rest of Europe¹ | 8,241 |
| Sweden | 6,520 |
| Turkey | 6,081 |
| Poland | 5,782 |
| Portugal | 5,316 |
| Denmark | 5,228 |
| Netherlands | 4,328 |
| Australia | 4,327 |
| Mexico | 3,527 |
| Japan | 3,234 |
| Romania | 3,028 |
| Ireland | 2,830 |
| Austria | 2,632 |
| Belgium | 2,386 |
| South Africa | 1,471 |
| Chile | 1,424 |
| Uruguay | 1,210 |
| South Korea | 1,031 |
| Egypt | 810 |
| Morocco | 787 |
| Taiwan | 682 |
| New Zealand | 623 |
| Pakistan | 591 |
| Ethiopia | 324 |
| Costa Rica | 298 |
| Argentina | 279 |
| Panama | 270 |
| Tunisia | 245 |
| Peru | 241 |
| Thailand | 223 |
| Philippines | 216 |
| Honduras | 176 |
| Caribbean5 | 164 |
| Dominican Republic | 135 |
| Jordan | 119 |
| Pacific Islands | 13 |
*Figures for China are provisional
(Data sourced from Global Wind Energy Council)
Recent Posts