Next Story
Monaco has the Largest Expanse of Terrestrial and Marine Protected Area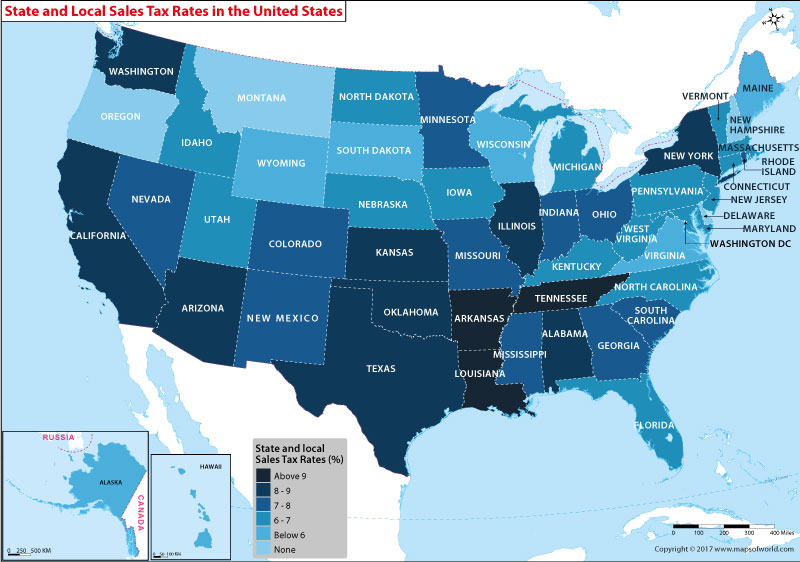 If you have a theme, we have a map.
Contact us for your custom mapping requirements
In the United States, a sales tax is a tax that is levied on the sale or lease of goods and services. Sales tax is levied in almost all of the states of the country, barring a few. However, the tax rates are not uniform. Every state has its own sales tax rates, which may range from high to minimal or no tax at all. However, sales tax does have an impact on the buying or business pattern.
As per research, consumers living in a high-tax area may buy products from a low-tax area. Similarly, if a business is located in a high-tax area, then there is a possibility that they might shift to a low-tax area. There may also be an exemption regarding a few items. Take for instance groceries. Some states in the United States exempt it from sales tax. In some states, a limited percentage of sales tax is levied on groceries while in some other states it is the same as all the other products. Some other products may or may not be exempt.
When breaking down sales tax state-wise, Tennessee commanded the highest combined state and local sales tax rates. According to a Tax Foundation report, in 2016, sales tax in Tennessee stood at 9.46 percent. Arkansas and Louisiana had the second and third highest state and local sales tax rates. Here the sales tax rates stood at 9.30 and 9 percent respectively.
The combined state and local sales tax rates were also significantly high in states like Alabama, Washington, Oklahoma, Illinois, Kansas, New York, California, Arizona and Texas, where these were between 8-t0-9 percent. Some states like Ohio, Indiana, Georgia, Mississippi, etc., had sales tax rates in the range of 7-to-8 percent, while in states like Kentucky, Idaho, Vermont, Pennsylvania, Utah, etc., these stood between 6-to-7 percent.
In states like South Dakota, Virginia, Maine, Wyoming, Wisconsin, Hawaii, and Alaska, as well as Washington D.C., the state and local sales tax rates were less than 6 percent.
There are four states where no sales tax is levied and these are Delaware, Montana, New Hampshire, and Oregon.
State
Combined State and Local Sales Tax Rates (%)
Tennessee
9.46%
Arkansas
9.30%
Louisiana
9.00%
Alabama
8.97%
Washington
8.89%
Oklahoma
8.82%
Illinois
8.64%
Kansas
8.60%
New York
8.49%
California
8.48%
Arizona
8.25%
Texas
8.17%
Nevada
7.98%
Missouri
7.86%
Colorado
7.52%
New Mexico
7.51%
Minnesota
7.27%
South Carolina
7.22%
Ohio
7.14%
Mississippi
7.07%
Georgia
7.01%
Indiana
7.00%
Rhode Island
7.00%
New Jersey
6.97%
North Carolina
6.90%
Nebraska
6.87%
North Dakota
6.82%
Iowa
6.79%
Utah
6.69%
Florida
6.66%
Connecticut
6.35%
Pennsylvania
6.34%
Massachusetts
6.25%
West Virginia
6.20%
Vermont
6.17%
Idaho
6.03%
Kentucky
6.00%
Maryland
6.00%
Michigan
6.00%
South Dakota
5.84%
D.C.
5.75%
Virginia
5.63%
Maine
5.50%
Wyoming
5.42%
Wisconsin
5.41%
Hawaii
4.35%
Alaska
1.78%
Delaware
none
Montana
none
New Hampshire
none
Oregon
none
(Data sourced from Tax Foundation)
Recent Posts