It Just Takes A Day to Start a Business! Unbelievable? Scroll down and know more
Next Story
Nations that won the Rugby World Cup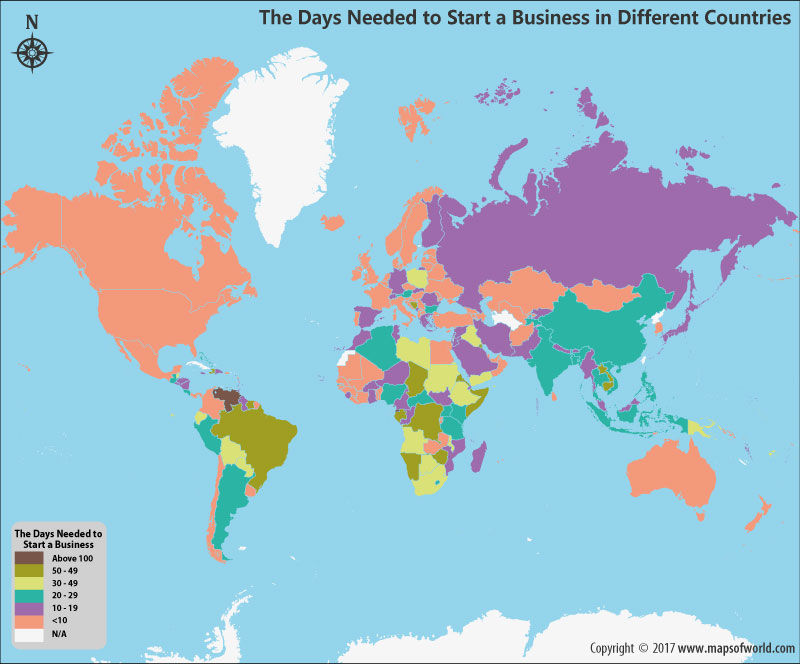 If you have a theme, we have a map.
Contact us for your custom mapping requirements
Does the thought of starting a business in just a day sound far-fetched? After all, setting up a business is a cumbersome process as procedures usually take days on end to get over. But don't get disheartened as you will be surprised to know that there are many countries in the world where setting up a business takes just a few days and not weeks or even months.
According to a World Bank data, New Zealand is the best nation in the world to start a business. It just takes a single day to start a business here. The nation has made a dramatic improvement where it took 12 days to do the same some years ago. But Macedonia fared even better. In 2003, it took 49 days to start a business in the country, but by 2016, it had come down to just two days. In Australia, it is just three days and the figure has not changed since 2003.
Some other nations where it takes less than a week to set up a business are Hong Kong, Canada, Singapore, Denmark, France, Belgium, The United Kingdom, the United States and many others. Interestingly, in many African nations such as Burundi, Rwanda, Liberia, Senegal, etc., and Asian nations such as Oman, Cyprus, Mongolia, etc., it took less than a week to set up a business. The Asian nation of Azerbaijan may be a fabulous place to start a business as it takes just three days to do the same, but it was not always so.
Way back in 2003, it took a staggering 105 days or three and a half months to set up a business. Similar is the case with Estonia, where the number of days fell from 72 in 2003 to just four in 2016.
In Germany and Japan, you can set up a business in just 11 days. In India, which is an emerging economy and a favored destination for entrepreneurs, starting a business can be cumbersome. It takes a whopping 26 days to do so, while in China, it can take you 29 days to start a business. In South Africa it takes 43 days to start a business and if you thought that was pretty long, then consider this: In Equatorial Guinea and Venezuela, it takes 134 and 230 days respectively.
So, where are you planning to start a business?
(Data sourced from World Bank)
Recent Posts