The Global Hectarage of Biotech Crops by Country, On A World Map
Next Story
Top 24 Water Parks in North America by Attendance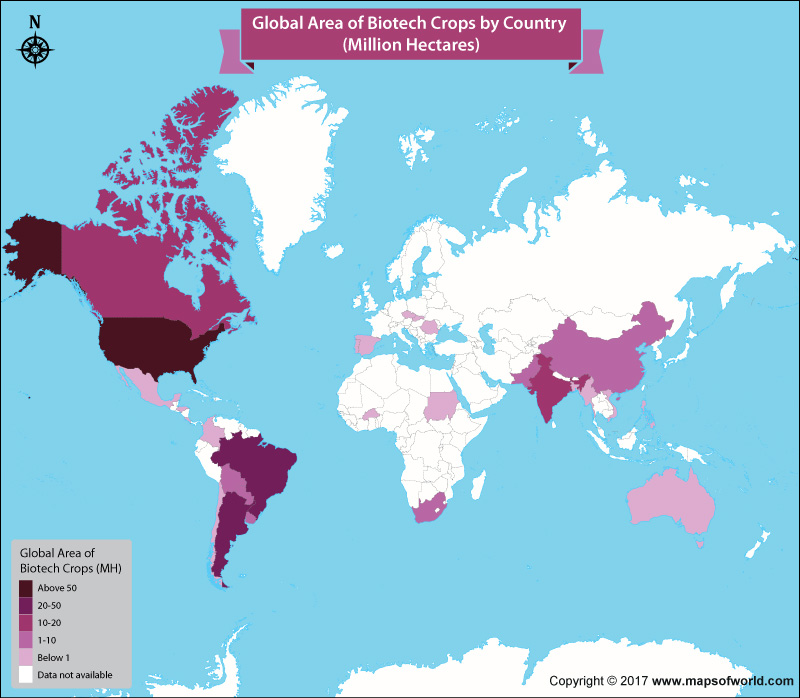 If you have a theme, we have a map.
Contact us for your custom mapping requirements
The past few years have witnessed an increase in the popularity of biotech crops, resulting in more and more countries resorting to this new technology. In fact, it is the fastest adopted crop technology in the history of agriculture, as countries have taken to a large-scale plantation of these crops.
Simply defined, a biotech crop has been modified by using genetic engineering methods. This is done with the aim to produce crop varieties with desirable traits, including tolerance against some pests and herbicides.
The figures speak for themselves. In the year 1996, biotech crops witnessed an initial planting of 1.7 million hectares. However, by 2015, it had increased to a whopping 179.7 million hectares, a 100-fold increase. According to estimates, in the year 2015, around 18 million farmers in 28 countries planted biotech crops.
According to a data by the International Service for the Acquisition of Agri-biotech, the United States topped the table in the plantation of biotech crops in the year 2015. The area of biotech crops in 2015 in the United States stood at 70.9 million hectares. Brazil was at the second spot with the area of biotech crops in 2015 standing at 44.2 million hectares.
The other mega countries included Argentina, India and Canada where the area of biotech crops in 2015 was 24.5 million hectares, 11.6 million hectares and 11 million hectares respectively. China is not yet a major producer of biotech crops. In the year 2015, the area of biotech crops in China was 3.7 million hectares. However, in the years to come it intends to substantially expand genetically modified crops.
Nations such as Paraguay, Pakistan, South Africa, Uruguay and Bolivia had a biotech crops area of more than 1 million hectares each.
The table below would provide you a detailed figure of the area of biotech crops per country in 2015.
| Country | 2015 (Million Hectares) |
| --- | --- |
| USA | 70.9 |
| Brazil | 44.2 |
| Argentina | 24.5 |
| India | 11.6 |
| Canada | 11 |
| China | 3.7 |
| Paraguay | 3.6 |
| Pakistan | 2.9 |
| South Africa | 2.3 |
| Uruguay | 1.4 |
| Bolivia | 1.1 |
| Philippines | 0.7 |
| Australia | 0.7 |
| Burkina Faso | 0.4 |
| Myanmar | 0.3 |
| Mexico | 0.1 |
| Spain | 0.1 |
| Colombia | 0.1 |
| Sudan | 0.1 |
| Honduras | <0.1 |
| Chile | <0.1 |
| Portugal | <0.1 |
| Vietnam | <0.1 |
| Czech Republic | <0.1 |
| Slovakia | <0.1 |
| Costa Rica | <0.1 |
| Bangladesh | <0.1 |
| Romania | <0.1 |
| Total | 179.7 |
(Data sourced from International Service for the Acquisition of Agri-biotech)
Recent Posts