Top 20 Countries with the Highest External Debt Stocks
Next Story
Want to know which is the biggest international box office market? Check this out!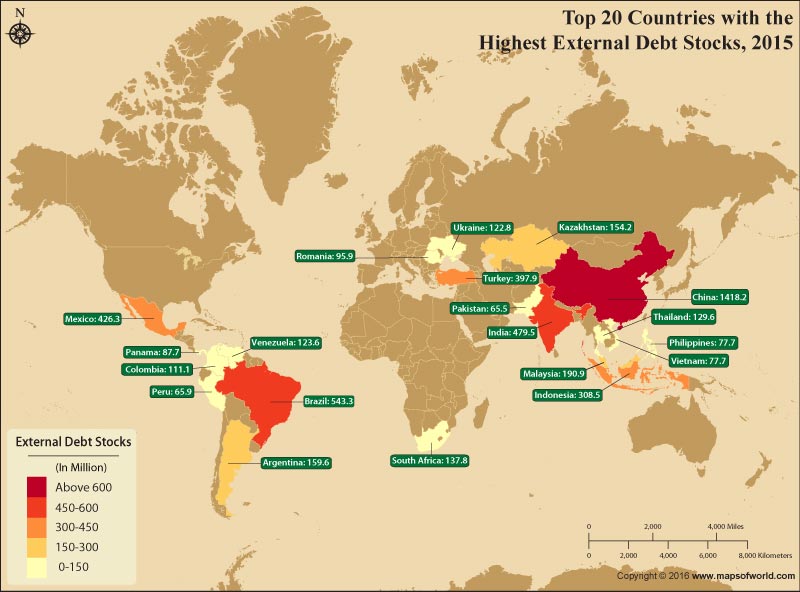 If you have a theme, we have a map.
Contact us for your custom mapping requirements
External debt is the part of a country's debt that was borrowed from foreign lenders including commercial banks as well as government or international financial institutions. According to a World Bank data, of the top 20 countries which have the largest external debt stocks in 2015, China stands at the top. The emerging superpower, as of 2015, had 1418291 million dollars in external debt.
Placed at the second spot is Brazil. Though the South American nation's economy is the ninth largest by nominal GDP, its external debt stocks add up to 543399 million dollars. Following Brazil closely is India, another emerging economy which has an external debt stock of 479559 million dollars. The only two European countries mentioned in the list are Ukraine and Romania, which stand at 13th and 15th spots and have external debt stocks of 122825 million dollars and 95955 million dollars respectively. India's neighbor, Pakistan occupies the 20th position and has external debt stocks amounting to 65482 million dollars. Turkey, which is located in both Europe and Asia, has an external debt of 397923 million dollars, while South Africa is the only African nation on the list having an external debt of 137887 million dollars.
Other nations mentioned in the World Bank's International Debt Statistics, 2015, report are Mexico, Argentina, Venezuela, Colombia, Panama, and Peru in south, central and north America; and the Asian nations of Indonesia, Malaysia, Kazakhstan, Thailand, Vietnam, and the Philippines.
(Data sourced from the World Bank)
Recent Posts