Which is the Sea with the Highest Salinity?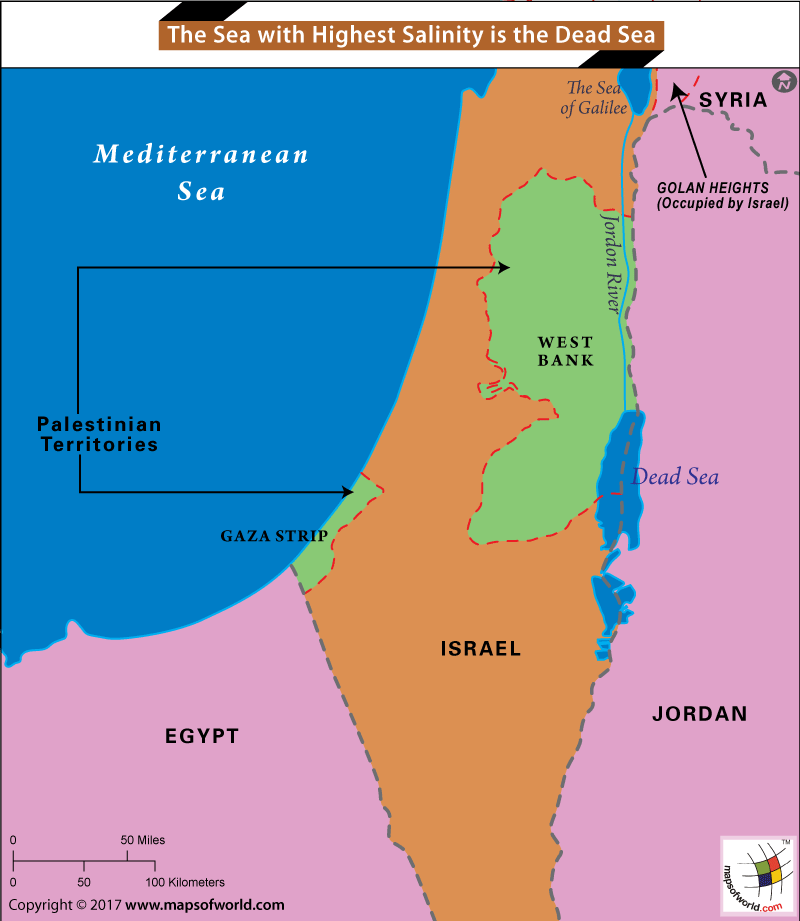 In the habitable world, the Dead Sea is recognized as the most saline with a salinity level of 34.2%. However, there is a small water body in Antarctica, Don Juan Pond, with a salinity level of 44.2%.
The Dead Sea covers an area of 234 sq miles, with Jordan on its eastern shores and Israel on the south side of its western shores. The north side of its western shores lies within the Palestinian West Bank territory, under Israeli control. The Jordan River flowing in from the north is its only source of water.
The Dead Sea is recognized as the lowest water body on Earth with the lowest terrestrial elevation at 1,412 feet. It's present length extends 31 miles, width 9 miles and depth 997 feet.
Unfortunately, the water levels have been receding since the late 20th and early 21st centuries. Its earlier area is believed to have covered 394 sq miles with maximum length at 50 miles and maximum width extending upto 11 miles.
The Dead Sea has witnessed an interesting phenomenon with its salinity. Historically, the salinity has been higher in the lower depths of the sea where temperatures have been  warmer. This condition remained till the 60s, when reduction in water flow from the Jordan River progressively resulted in an increase in water temperature in the upper layers of the Dead Sea along with an increase in salinity levels. Consequently, columns of salt began to appear and extend above the water level. So dense was the salinity that people began to float on water.
The winter of 1978-79 saw a reverse phenomenon occur called the overturn. The cooler temperatures of that winter resulted in the upper layers of the water become cooler than the lower layers. As a result, the rock columns began disappearing to lower levels.
Due to high levels of salinity, marine and plant life has been almost non-existent, except some microorganisms and algae that breed in saline conditions. Fish from the Jordan River flowing into the Dead Sea die almost immediately.
The area has been known for its rock salt deposits around Mount Sedom on the south western coastline. The region remains rich in natural minerals, and magnesium, potash and calcium chloride has been processed here.
Human habitation is minimal, barring a few hotels and Spas that have come up to promote the medicinal effects of the Dead Sea and its minerals.
Related Maps and Articles: