Where Are The Pyrenees Mountains Located?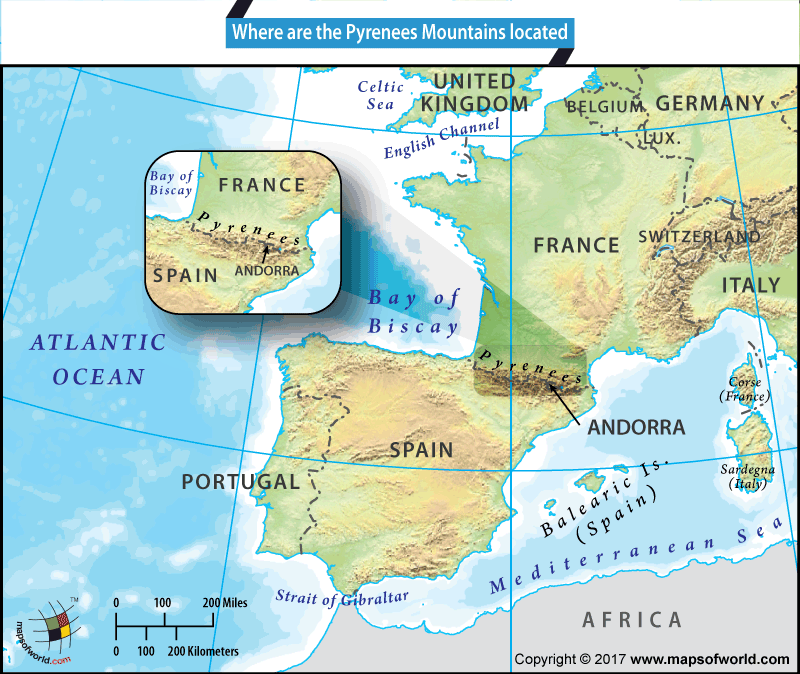 Pyrenees Mountains Map
The Pyrenees are a chain of mountains in southwestern Europe that stretches over 300 miles in length and is between six and 80 miles in width. These mountains form a natural barrier between two important European nations – France and Spain.
The Pyrenees Mountains have played a remarkably significant role in the history of both nations and the region. The Pyrenees stretches from the Mediterranean Sea in the east to the Bay of Biscay on the Atlantic shores in the west, thus cutting off the Iberian Peninsula from mainland Europe.
Some six French departments (Pyrénées-Orientales, Aude, Ariège, Haute-Garonne, Hautes-Pyrénées, and Pyrénées-Atlantiques) and six Spanish provinces (Girona, Barcelona, Lleida, Huesca, Navarra, and Gipuzkoa ) border the mountains, and remain perched high in the Pyrenees. Nestled between these two countries, is the mountain country of Andorra. This microstate is located on the peaks of the Pyrenees and its capital, Andorra la Vella is at an altitude of 3,356 feet. This makes the Andorran capital the highest capital city in the continent. Other important French cities located in the Pyrenees include Perpignan, Lourdes, Bayonne, Luz-Saint-Sauveur, and Orthez and other Spanish cities in the Pyrenees include Girona, San Sebastian, Huesca, Pamplona, and Irún.
Stunning views, rugged peaks, and pristine wilderness of the Pyrenees offer much by way of tourism and adventure enthusiasts. Alpine skiing, mountain biking, and mountaineering activities are commonly undertaken in these mountains both on the French and Spanish Pyrenees. There are approximately 50 ski resorts in the French Pyrenees. Pico de Aneto, the highest mountain peak of the Pyrenees records an elevation of 11,168 feet. The mountains have also become a major attraction due to the fact that best-selling author Paulo Coelho spends about 6 months each year in his cottage in the French Pyrenees.
According to one legend, the Pyrenees were named after Pyrene, the daughter of King Bebryx who hosted Hercules on his labor to steal the cattle of Geryon. Hercules molested Pyrene who fled to the mountains after giving birth to a snake. Here she fell prey to wild beasts. The mountains were named by Hercules in his grief and remorse. Whatever the myths and legends of the land, archaeological evidence suggests that these mountains were once home to a highly advanced civilization.
Related Links:
Related Maps: