Why is Japan Prone to Earthquakes and Tsunamis?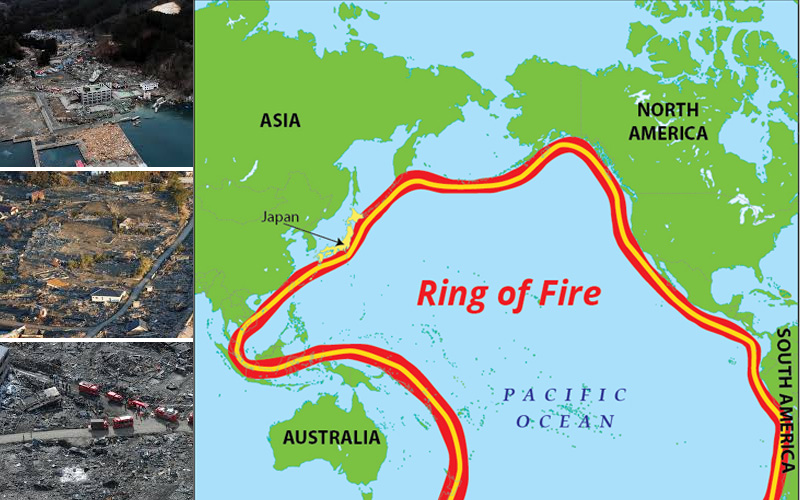 Japan is extremely vulnerable to earthquakes and tsunamis due to its location in the Pacific Ring of Fire. The "ring" is a horse-shoe shaped basin along the Pacific Ocean.
About 90 percent of all seismic activity in the world takes place in this region. Seventy-five percent of the world's dormant and active volcanoes are located here. The movement and collision of large tectonic plates in the Pacific Ring of Fire trigger earthquakes and these, in turn, cause the numerous tsunamis that affect Japan.
The earth's surface is made up of large plates or chunks of the earth's crust that move around (atop the mantle) and often collide. The edges of these plates are earthquake-prone areas. Japan is located on the joint of four such plates – the Pacific plate, the Philippine plate, the Eurasia plate and the North America plate. Every so often the Eurasia plate and North America plate try to override the others due to the natural movement of the earth.
The tectonic plates that form the earth's crust are light and their collision builds up stress along their point of contact. Large "faults" or lines of breakage are also formed along the boundaries. These faults are particularly vulnerable to sudden lurches causing earthquakes. Japan Median Tectonic Line (MLT) is one of the longest fault systems of Japan running through Kyushu, Kinki, Shikoku, Chubu, and Kanto. Some of the most destructive earthquakes of Japan have occurred along the MLT.
Sudden activities or movements on the ocean floor such as earthquakes and volcanic eruptions cause tsunamis. It is the seismic and volcanic activity in the Pacific basin that gives rise to tsunamis that affect coastal Japan.
The 2011 Tōhoku earthquake, measuring 9.0 Mw, was the worst earthquake to hit Japan. The earthquake and the subsequent tsunami wreaked havoc and made it one of the costliest natural disasters in the world.
Related Maps: