Which Countries Lie within the Arctic Circle?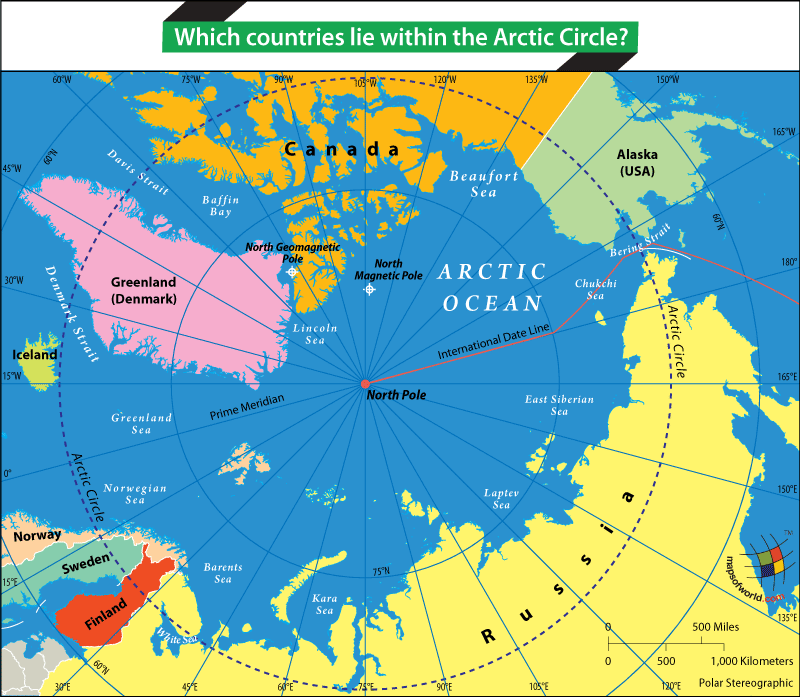 Sweden, Norway, Finland, Denmark (Greenland), Iceland, Russia, USA (Alaska) and Canada, are the 8 countries that lie either partly or completely within the Arctic Circle.
The Arctic Circle is the imaginary line located at 66°, 30'N latitude and marks the southernmost boundary of the Arctic region. During the mid-winter months, the temperatures drops to below -50°F with no sunrise during this period.
The summer months are warmer, especially in the southern areas of the Arctic Circle and results in icebergs melting and breaking away to float southwards into the Atlantic Ocean.
During June and December solstices, a phenomenon called polar day and polar night occurs, respectively, when the sun is constantly positioned above the horizon or below it, resulting in a 24 hour day or 24 hour night, respectively.
On September 9, 1996, the 8 countries of the Great North came together in Ottawa, Canada, to sign the Declaration on the Establishment of the Arctic Council, also commonly referred to as the "Ottawa Declaration", to address common concerns and promote common interests. Since then, several organizations representing Aboriginal interests have been joining in discussions of the Arctic Council as active participants to promote and preserve their traditional lifestyles and livelihood.
Over 4 million people reside in the Arctic region. The original inhabitants include the Inuit people (Eskimos) who are believed to have first settled in the Canadian polar regions over 9,000 years back.
Other inhabitants include the Sami, also known as Laplanders or Lapps, live across Scandinavia and address their land as Lapland. Hunting and fishing have been their main activity along with traditional craft-work. Several different dialects are spoken by the inhabitants and follow their own traditions. The area referred as Lapland includes regions north of Norway, Finland, Sweden and the Kola Peninsula of Russia.
Then there are people of Russian origin who date back a long time. Two major cities in the Arctic Circle are in Russia – Murmansk (Population: 892,534) and Norilsk (Population: 140,800).
Most of the areas north of the Arctic Circle experience very low temperatures through most of the year but large parts of the Norwegian Sea and southern parts of Barents Sea remain ice-free throughout the year and are extremely important for shipping lines that conduct sea trade.
Related Maps: