How many people were naturalized in US in 2015?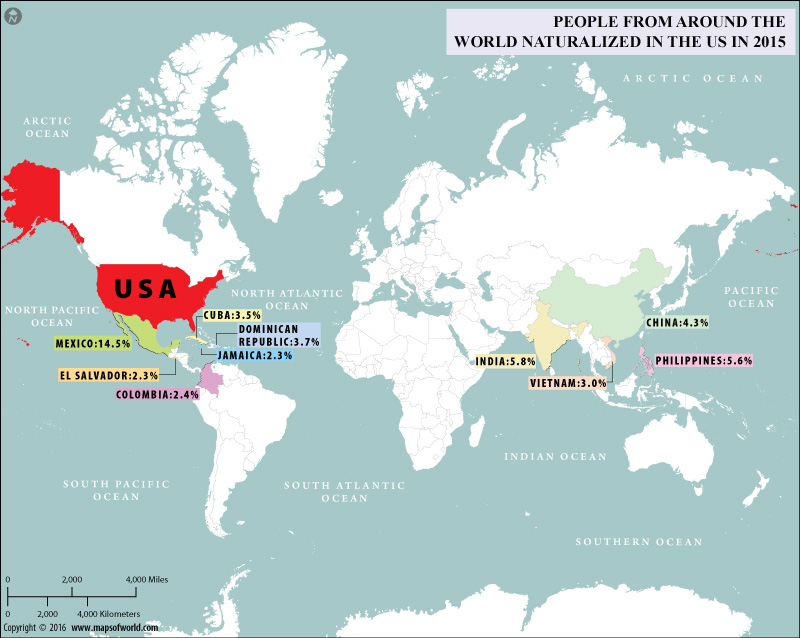 Naturalization is a process where citizen of one country officially becomes a citizen of another. This generally requires a person being of good character, following the immigration laws, has stayed in the country for a specified amount of time, and know the spoken language enough to communicate.
The United States has through the decades witnessed a steady flow of immigrants from around the world. In 2015, there were 730,259 immigrants who were naturalized in the US and the majority of these were from Mexico. Though the US has received immigrants from the entire world but the largest number were from Mexico. Of the 730,259 immigrants naturalized in 2015, 105,958 were from Mexico, which formed 14.5 percent. Indian immigrants formed the second largest number but were way behind Mexico. In 2015, there were just 42,213 Indians naturalized in the US or 5.8 percent. The other nationalities that were naturalized in the US in 2015 were the Philippines (40,815 or 5.6 percent), China (31,241 or 4.3 percent), Dominican Republic (26,665 or 3.7 percent), Cuba (25,770 or 3.5 percent), Vietnam (21,976 or 3 percent), Colombia (17,207 or 2.4 percent), El Salvador (16,930 or 2.3 percent), and Jamaica (16,566 or 2.3 percent).
Know more:
Related Maps: