Why Is There A Country Within The Country Of South Africa?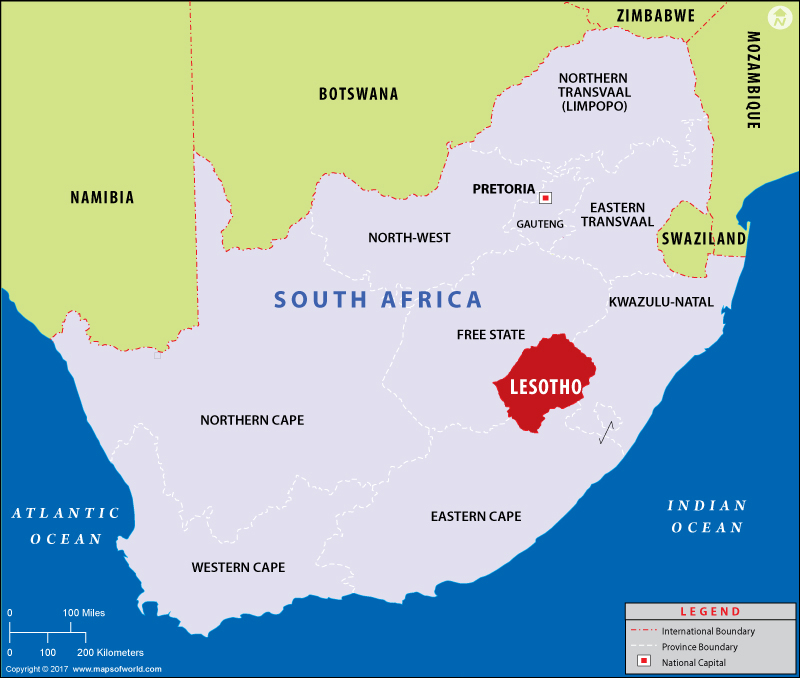 The Kingdom of Lesotho is a small landlocked country in the African continent that is surrounded on all sides by South Africa.
The Republic of South Africa is the southernmost country of Africa. Since Lesotho is completely surrounded by South Africa and does not share any boundaries with any other nation, it is often said that it is a country within the country of South Africa.
Despite being encircled on all sides by South Africa and also being highly dependent on the larger nation, Lesotho has succeeded in maintaining its independence. This is partly due to the high and intimidating mountains that separate these two African countries.
It was in the early 1800s that the modern-day Lesotho came to find its identity as a single polity. King Moshoeshoe I of the Mokoteli united much of the land into the Kingdom of Sotho. The following years saw Sotho consolidation, but were also characterized by the Sotho-Boer wars and numerous conflicts.
The British, who had come to the assistance of Moshoeshoe from time to time, annexed the kingdom in 1868 and renamed the protectorate Basutoland. In 1871, the colony went on from being a crown colony to a part of the Cape Colony and later, returned to the status of crown colony in 1884.
In 1910, during the formation of the Union of South Africa, the British intended to include Lesotho into the union. Several factors prevented such a move and by 1966, the Kingdom of Lesotho gained independence.
Despite being a sovereign nation, Lesotho's politics has been deeply influenced by South Africa. The coup d'état of 1986 and the military intervention of 1998 were both backed by South Africa. Apart from this, Lesotho is also highly dependent on its neighbor for economic assistance. The kingdom's economy has now started to open up with travel bringing in many foreign visitors. The relations between South Africa and the country within South Africa have remained largely harmonious over the years.
Related Maps and Articles: